SPC Waterproof Flooring
What is SPC Waterproof Flooring?
SPC means Stone Plastic Composite or Solid Plastic Composite.
SPC waterproof flooring is a subcategory of LVT, which is a hybrid product of LVT and composite SPC core that helps to bring more structural stability to LVT. Unlike linoleum and vinyl sheet both come on a roll,  SPC waterproof flooring comes in plank. It is an extruded, closed-cell PVC structural core that delivers rigidity and strength combined with what is still an LVT top-layer.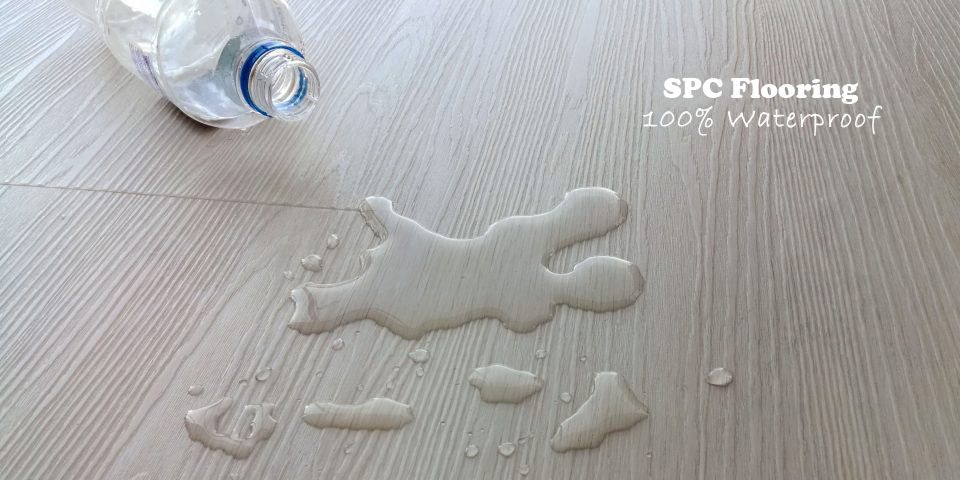 Structure of SPC Waterproof Flooring
The composition of SPC core is polyvinyl chloride, calcium carbonate, dioctyl terephthalate and others.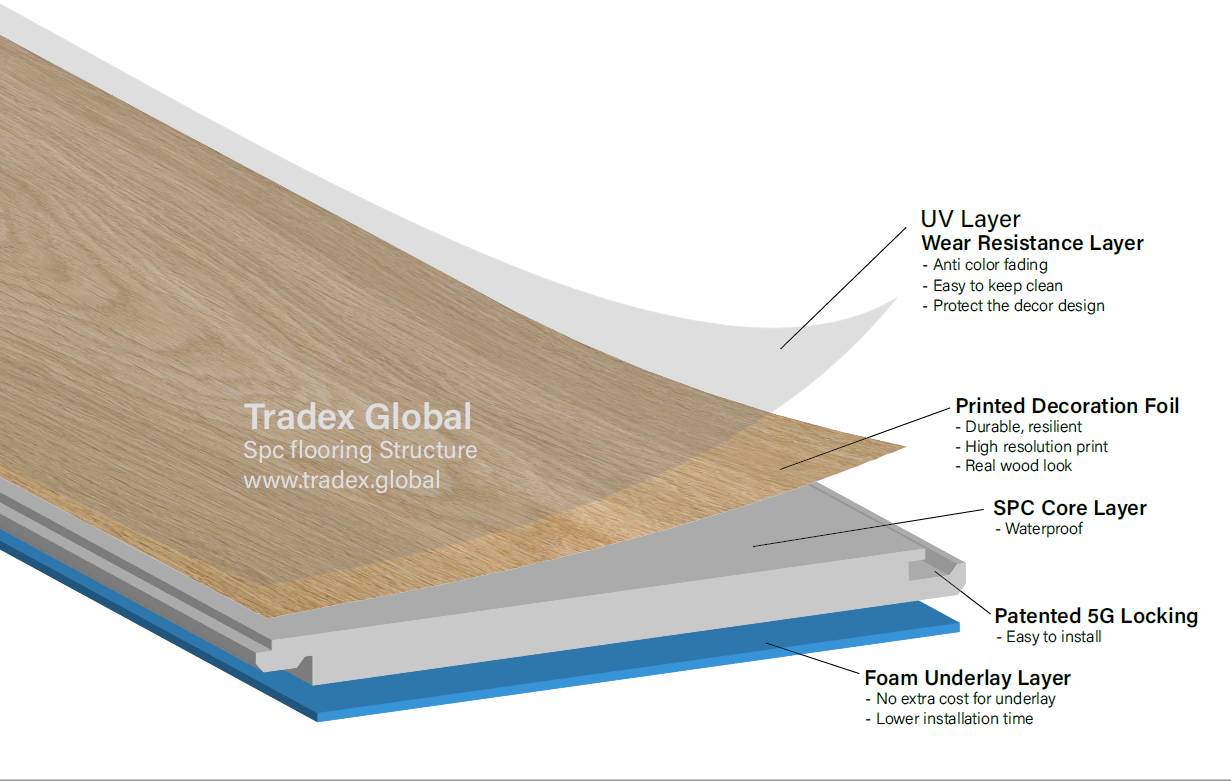 SPC Waterproof flooring features: 
•  100% waterproof planks. Kids, pets, parties and other spill-inducing scenarios can be a nightmare. However, waterproof flooring is a solution that can help you rest at ease.
•  Ultra- durable. it has a tough commercial grade surface – AC5 abrasion resistance rated, resists scratches, stains and wear, makes cleanup easy.
•  Featuring a EIR(embossing in register) surface texture that enhances its realistic wood appearance, this SPC waterproof flooring collection adds style and rustic elegance to your home.
•  Patented Valinge 5G locking system – easy installation.
•  Low maintenance.  All you need is occasional vacuum and damp mop
•  SPC waterproof flooring is more resilient and much more comfortable.
Because it's waterproof and super durable, SPC waterproof flooring is great for any room in the house or business. Such as:
→ Kitchen. The warm wood look is so popular in kitchen right now, SPC waterproof flooring is a perfect alternative to hardwood flooring. It's much more easier on your feet and joints than traditional tile.
→ Bathroom. Yes! You can have the look of wood floor in your bathroom and you don't have to worry about flooding. SPC waterproof flooring is easily as good a choice as ceramic tile in the bathroom.
→ Basement. Basements can be prone to flooding so flooring can be tricky. Luckily, SPC waterproof flooring gives you an option for a gorgeous wood look floor in your basement without the worry of damage during a flood.
→ Commercial space. SPC waterproof flooring is one of the most durable flooring options on the market, therefore, it can hold up to the high traffic of commercial spaces.
Download technical datasheet here SPC DATASHEET
Easy installation with Valinge 5G locking system
Easy installation with Valinge 5G locking system
100% waterproof test https://www.youtube.com/watch?v=KPQWwRVsBRo
Showing all 16 results